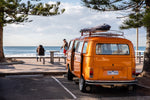 3 Retro Swimsuits You'll Want for Your Summer Getaway Wardrobe
Calling all retro ladies. Summer is the perfect time to channel your inner 50's fashion icon and take your frolicking to the sandy shores. While everyone else is wearing the same generic and modern styles, you'll be turning up the heat in these top trending retro swimsuits for 2019.
Grab Some High Waist Swimsuit Bottoms For The Perfect Silhouette
If there's one thing the ladies from previous decades knew how to do perfectly, it was creating a flawless silhouette. But we aren't here to tell you to squeeze into a suffocating corset. After all, we're talking about retro swimwear, not swimwear antiques! So, when you're shopping for some retro swimsuits this summer season, keep an eye peeled for high waist swimsuit bottoms that are designed with a vintage appeal.
These types of retro swimsuit bottoms leave much more to the imagination than those itsy bitsy thong bikinis that seem to be "the thing" in this modern-day world, making them mysterious and sexy. And as the saying goes, less is not always more and our high waist retro bottoms are the perfect example of just that. Cinched at the waist before extending slightly above, these retro bikini bottoms will give you a perfect silhouette and all the comfort and coverage you desire.
Oh, and let's not forget to mention that they come in black, red, gray and white!
Beach It Like Barbie in This Vintage Chevron Stripe One Piece Swimsuit
There's nothing like a good, sexy and comfortable one piece swimsuit that highlights all the areas you want to flaunt while hiding the ones you wish to hide. Our Chevron stripe retro one piece swimsuit has all the elements you want for a flawless look and feel while frolicking the sandy shores.
Designed with a Barbie appeal in mind, this vintage swimsuit comes  with shelf bust, silicone gel top seam and a fit perfected with nylon and spandex fabric. The straps are adjustable and removable, giving you all the versatility you need throughout the summer season. The best part of all is that the stripes are placed in positions that emphasize your natural body shape, bringing attending to your bust (not too much, of course) while slimming your waist and hip area.
Dip Into a Plunging Neckline Vintage Swimsuit like Marilyn
Vintage bathing suit designers have always known how to create one pieces that were more Marilyn than Mom, and that certainly isn't about to change now. So, if you're looking for more of a Marilyn Monroe inspired day at the beach, our Vintage Black Halter one piece swimsuit is the perfect option.
This retro swimsuit has vintage elements such as the cinched waistline added into the design to give you that retro feel, while also adding in modern day comforts from the mesh linings. The fit is absolutely flawless, pulling in where needed and letting your bodacious side show in other areas. It has a plunging neckline that is less revealing than the modern-day options, while still managing to be way sexier. And just look at the vintage bow that gets created from the wider bathing suit straps! It's a swimsuit and beachwear accessories-in-one. Now that's what we call some Marilyn Monroe style.
Don't forget to pair your retro swimsuit look with some retro sunglasses. After all, a retro beach look is never complete without some unique, feminine and flirty sunglasses. So, head on over to Betty Von Chic and pick up all your retro swimwear and vintage accessories today.