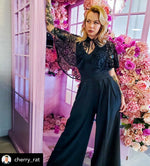 6 Modern Pin-Up influencers to follow in 2020
6 Modern Pin-Up influencers to follow in 2020

Here at BettyVonChic Boutique, we make it our business to make you look and feel good. The two go hand in hand. It's not all vanity though - when you invest in yourself and your dreams, you inspire others to do the same. It's a beautiful cycle that so many of you have mastered.

BettyVonChic Boutique would like to give a special shoutout to some of our favorite Pin-Up Superstars.⭐️These Modern Pin-Up Influencers have inspired us. These gals are hardworking professionals who are not only looking good; they are also doing good.  Follow them for some Pin-spiration 💕

Miss Rockwell DeVil

Host & Creator of the pin up contest for the world famous Viva Las Vegas festival, this bonafide boss babe is also designer, model, a burlesque performer, and so much more! 

Checkout Miss Rockwell DeVil in one of our favorite floral tops.
Tiki party anyone? You can find this top right here.

Cherry Rat 

Cherry Rat is a Brazilian Rockabilly singer, songwriter and pin-up model. Cherry
was nominated for the Best Female Rockabilly Singer Award at the Ameripolitan Music Awards in 2019. Stay tuned because she's going places!


Find the Striped Boatneck Top in Wine, 
Red Pencil Skirt by Steady Clothing, 
Mystery Key to my Heart Brooch by Bow & Crossbones, 
Mini Love you tote by LuxDeVille
and the Small Rhinestone Cateye Sunglasses . 

Lady Danger

LadyDanger is a hometown favorite. Sweet home Chicago♥️ She is the founder of Fleeky Friday Cosmetics and an internationally published pin-up model. #BossBabe

You can find this red Barbie dress by Unique Vintage here. 

Miss J. Sweetapple

Our favorite Honky Tonkin redhead J. Sweetapple channeling a little Loretta Lynn
meets Dolly Parton. Her style, and infectious smile always brings us joy and brightens our day!



Check out our favorite pair of LuckyLou shoes here.

Roxi Rocket

Roxi Rocket's #Quarantiki posts are bringing a ray of light during these trying times. Can summer just be here already?!
Roxi Rocket is a Grand National Roadster Show trophy queen, as well as Miss Pinup Japan '19 Runner Up. Roxi is the first pinup from the USA to take home a title at the Mooneyes Yokohama Hot Rod Show. 
Find this dress by Rock n Romance Vintage right here.


Miss Coral Reefer

Coral Reefer is a Chicago Pinup. She has stolen our hearts 💕 with her fresh, modern Pinup style. Coral Reefer is a pinup model, visual artist, and burlesque entertainer from Indianapolis, Indiana. A lifelong theater performer, she earned a degree in comedy writing and performance from Columbia College and performed in the inaugural cast of The Second City's first all-female sketch revue at the age of 22. Coral is an avid visual artist and illustrator whose work focuses on the erotic, the surreal, and the construct of femininity. An eating disorder survivor and fierce advocate for body positivity, Coral is the reigning Miss Motoblot 2019 Pinup Queen. Her recent onstage credits include the musical improv house ensemble at The Second City and headlining Vaudezilla Burlesque Spectacular. Coral is a songwriter and trained vocalist who loves covering classic rock and Motown music in her free time!

Check out this amazing Barbie Pink Satin Strapless Enchanted Evening Gown here.