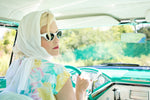 7 of Today's Top Vintage Fashion Icons To Follow
If there's one modern thing to love, it's all the vintage style inspirations you can find on social media. Whenever you're in doubt about what to wear or whether your ensemble is 50's fashion icon worthy, just click online and view our vintage style outfit ideas. Looking for more inspiration? Scroll your way over to these modern day retro fashion icons and see what type of vintage fashion they're rocking.
Idda Van Munster
Instagram: Idda_Van_Munster
Originally from Bosnia, Idda Van Munster has perfected the vintage inspired look. Everything from her vintage outfits to her 50's fashion icon makeup is paired so perfectly, you'd swear you were living in a different era. The only thing that isn't vintage on her account is the quality of the photos - they're all so bright and vibrant!
Victoria
Instagram: Vintagemaedchen_by_victoria
For the ladies eager to find vintage inspired fashion from all walks of life (and moments in history), you'll want to follow Victoria at Vintagemaedchen_by_victoria. This modern day retro fashion icon focuses on all types of retro fashion from between the 20's and 60's, giving you a glimpse into fashion that your grandma, great-grandma, great, great-grandma would have worn.  She also has a blog that focuses on books, arts, history and vegan life.
Ida Catherine
Instagram: Idacath
Imagine having a wardrobe that is entirely and directly from the 30's and 40's? Well, that's exactly what you get to see when you follow Idacath on Instagram. This modern day retro fashion icon doesn't recreate vintage inspired outfits with modern day items; she finds real vintage clothing and turns them into modern day masterpieces. Her vintage apparel is about as authentic as it gets.
Katie Louise Ford
Instagram: Katielouiseford
Eager to dive deeper into vintage fashion? Take a blast to the past to the 20's and 30's with Katie Louise Ford. She even has a popular YouTube channel where she shows you how to perfect a makeup look from the same era. So, if your love for vintage fashion doesn't end in the fabrics, Isabel is definitely someone you want to follow.
Annelies van Overbeek
Instagram: Annelies_van_Overbeek
Perhaps you're in love with the culture of the older days as much as you are in love with the fashion. If that's the case, you have to follow Annelies van Overbeek. Not only does she recreate vintage outfits and pop icons from the past but she also recreates history, giving you insight as to what it was like to live back then.
Her vintage inspired style and photos are so fabulous, they've recently gone viral!
Rachel Frances
Instagram: Rachelfrancescx
If you're a fan of Marilyn Monroe, you'll love Rachelfrancescx because she is literally a modern-day replica. Rachel Frances has perfected the Marilyn Monroe makeup look, outfits, and poses so well that you'd swear you were looking at the real deal.  At the very least, you'll find all kinds of ways to bring out your inner 50's fashion icon.
Lady Damfino
Instagram: Damfino
For the ladies who like the pin-up look more than they do the sleek and subtle 20's and 30's, Damfino is worth following. If Disney characters could go back in time and be pin-up dolls, they would look like the vintage inspired creations Lady Damfino puts on Instagram. She has mastered the look of bright, vibrant, fun, pin-up girl culture.
When in doubt (and when you're eager to see the new vintage inspired fashions we've added to our retro boutique), check out Betty Von Chic on Instagram. Not a fan of the IG? We have Facebook too. We look forward to sharing some vintage fashion and retro styles with you, so give us a "like" and stay up to date with era-old trends.