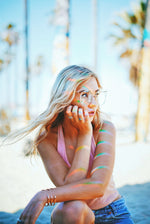 Top 6 Spring Summer Must Haves Every Retro Wardrobe Needs
There are some things every lady needs in her wardrobe when the sun starts to shine, and here at Betty Von Chic, we have the scoop. From pinup fashion outfits to vintage inspired looks, the warmer seasons are the perfect time to channel your inner vintage fashion diva. Here are the retro fashion must haves you need to strut your stuff in for spring and summer 2019.
A Polka Dot Dress
A polka dot dress is always a must have for vintage inspired outfits, regardless of the season.  After all, it's a classic! However, the modern-day fashion trends for spring and summer have also fallen in love with the polka dot look which is great news for ladies with a retro wardrobe. After all, you've been perfecting the polka dot look all this time. So, now is the perfect time to show the world how to wear polka dot dresses like a fashion icon from the 50's in this vintage red hot pencil dress.
Vintage One Piece Swimsuit
With the warm weather finally here, it's time to find the perfect vintage swimsuit to frolic on the sandy shores in. So, channel your inner Marilyn Monroe and slip into this unique vintage black halter swimsuit. It has the perfect fit for that 50's diva look, yet all the comfort that you desire. Needless to say, you'll definitely be turning some heads in this swimsuit.
Classic Vintage One Piece with a Modern Twist
Not a fan of the deep plunging neckline? Stick with the classic vintage inspired swimsuit look with our Black and White Stripe One Piece. Designed with nylon and spandex for the perfect silhouette, this vintage inspired swimsuit even comes with adjustable and removable straps, shelf bust and silicone gel top seam to really complete the look.
Vintage Inspired Luncheon Dress
One of the biggest modern-day fashion trends for spring and summer 2019 is the lady-suit look. But let's be honest here ladies, a luncheon dress is an even better option. It has a rich and lavish look that is similar to the lady-suit fashion trend, with an added dose of vintage and retro appeal that is certain to make you rule the sidewalks.
This Vintage Pink Luncheon Dress is actually a dress and jacket duo, designed with a retro exposed zipper and the perfect Barbie/50's fashion icon silhouette.
The Leather (Or Pleather) Look
It's been a couple of decades since the full leather look has been a trend but this is one spring vintage fashion trend that's making a comeback. So, make sure you have a leather look in your wardrobe to add some vintage inspired appeal into your spring and summer days. If the all-black-leather look doesn't pull at your retro heartstrings, switch things up for a colorful alternative.
Now, if wearing leather goes against your moral code, faux leather vintage dresses are the perfect substitution. As a bonus to being eco-friendly, faux leather dresses are just as friendly for your budget as well.
A High Waist Thrills Skirt
When it comes to getting a vintage inspired dress and channeling your inner Grease Lightning character, the bigger the poof the better. There's something so fun and flirty about a high waist thrills skirt, and the spring and summer season are the perfect time for both of those things. The best part? Our High Waist Thrills Skirt even comes with pockets just like the real retro deal. So, our thrills skirt is definitely a must have you'll want to be twirling in this year. 
Twirl your Thrills skirt right over to Betty Von Chic and explore our vast collection of retro outfits and vintage inspired looks. For more inspiration, check out some outfit ideas on our Instagram.