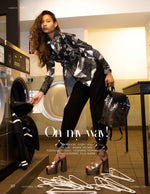 We are so grateful to start this new year on such a high note, as 2022 was a great year for us here at BettyVonChic! Between all of the interviews and mentions in articles, we even managed to launch our VERY FIRST retail partnership with Flying Solo in NEW YORK CITY!!! We were put in the spotlight with a designer profile in British Vogue and had our FABULOUS interview with House of COCO.
2022 in Review:
In May of 2022, BettyVonChic launched our partnership with Flying Solo, a retail store that sells independent designers' clothing and accessories. They are able to debut our original designs, focusing on sustainability and a belief that the future of fashion must transition. Flying Solo is located in SoHo, New York City. This was HUGE for the BettyVonChic brand and opened us up to so many new customers and LOVERS of vintage inspired fashion and style.
Later in the year, BettyVonChic was showcased in Weekly Style of British Vogue in July. We even had a DESIGNER PROFILE in MULTIPLE volumes, September through November 2022, DURING FASHION WEEK! If that's not exciting, I don't know what is!
Next up, House of Coco interviewed our very own, Mary Martin, Owner and Designer, on the BettyVonChic brand and her vision. If you're ever curious, you can gain a little insight into what inspired the brand, where Mary would like to see BettyVonChic in the next 5 years, and some other fun Q&A!
Our Sophia top was styled in the November article of Vous Magazine!
In December, our Urban Tropical Original 70s top was showcased in Artells magazine.
We also were published in the December issue of Shuba Magazine with pictures from our brand photoshoots by our friend, photographer Mariya Stoyanova.
2022 was such a great year and we truly had SO MUCH FUN! We can't wait to see what 2023 has in store for us!