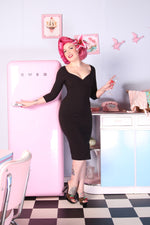 5 Ways to Get The Retro Look With Vintage Jewelry Sets
Take a look at any pictures from the past and chances are, the fashionistas are rocking some bold and ravishing retro jewelry. It was a time where "the bigger and bolder the jewelry, the better," making retro accessories key to achieving that 50's glamour appeal you're looking for from your own wardrobe. The best part? You don't even have to revamp your closet if you don't want to because retro jewelry does all the talking.  Just add on some retro earrings with a bold retro necklace, and your 50's icon will shine.
So, let's start channeling your inner 50's fashion icon with our go-to guide for buying and wearing retro jewelry in today's modern world. 
Add Different Retro Necklaces for a Modern Multi-Strand Twist
It's time to layer up, ladies.
Multilayered necklaces are a popular fashion trend today and one that retro ladies should definitely enjoy. To make sure this look stays more vintage than it does "typical" for today, combine a variety of retro necklaces that have difference lengths to create that multi-strand look. For example, pair a retro choker with a slightly longer retro statement necklace and complete the look with a longer, sleeker style.  
Get The Clip On Retro Look With Bold Matching Earrings
Back in the day, a lot of women wore clip-on earrings to add a sprinkle of style without putting holes in their skin. Those days are long behind us and chances are, you have your ears pierced – if not one but maybe even twice.
Now, that doesn't mean that you can't achieve the clip-on retro earring appeal. You just have to be more specific with the styles you choose.
Retro earrings often have elegant and extravagant elements that are big and bold.  They were usually made out of plastic which means that your desire for vintage inspired fashion doesn't have to break the bank.
Think Timeless When Shopping For Vintage Jewelry
When it comes to vintage fashion, timeless styles are everything. These types of vintage jewelry can be worn century after century without ever going out of style.
Think of Marilyn Monroe and Audrey Hepburn; some of the jewelry they often wore are still dominating as today's fashion trends.  From statement necklaces that don glass beads, and precious gemstones (or lookalikes) to charm bracelets, bangles and big hoops, they were and still are must have jewelry pieces because they are timeless.
The best thing about buying timeless vintage jewelry is that can instantly take a basic tee or fancy gown to the next level. Not only that but you don't have to constantly switch up your jewelry collection with every season that comes and goes. And let's get serious ladies, being frugal is fashionable! So, stick with styles that you know you'll be able to add into your retro outfits time and time again.
All-In-One Matching Retro Jewelry Sets Make Retro Fashion Easy
With all the stunning retro jewelry out there, it can be difficult to narrow in on the ones you want. That's also not to mention that because retro jewelry is so bold, they can be hard to pair with other styles. So, the easiest way to fill your jewelry box with retro accessories is to buy them in matching sets. Psst: matching jewelry sets were all the rage back in the vintage era.
This little retro shopping trick makes it easy to add a dose of 50's glamour into any look. It's effortless and you just can't go wrong with wearing bold retro earrings that were designed to be worn with a matching necklace.
Don't Forget The Simple Accents
Hair clips, hair bandanas, brooches, oh my! Pulling off the retro glamor look can be as simple as wearing fashion accessories that are specific to an older era, such as hair bandanas, brooches, compact fans, parasols, and cat eye sunglasses.
Vintage fashion is all about using fashion accessories to their fullest potential and letting them shine glamor throughout your entire ensemble. Shop Betty Von Chic today for all your must have retro jewelry pieces and vintage accessories and completely transform your look in seconds.