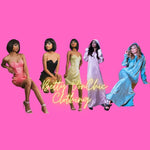 BIG CHANGES coming to BettyVonChic! 🥳
As you may already know, BettyVonChic is known for her vintage reproduction designs. With all of the new creative juices flowing, she has decided to focus fully on her own, vintage lux designs starting in JANUARY! That means...YOU GUESSED IT...more to come! Over the last few month's Betty has been working on some FABULOUS new designs that she can't wait to showcase to you! 
With that being said, BettyVonChic will be having a HUGE SALE on all items in the boutique. This does not include The BettyVonChic line  This does include all of the other awesome brands we carry! Get yours before it's gone! 
Check out the website to see all of the AMAZING things you can snag between now and the end of the year for 60% off! We can't wait to start sending out sneak peaks of the new arrivals hitting the store soon! As always, thank you for all of your love and support. 💕
-XOXO
BettyVonChic