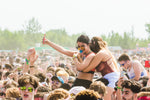 With spring in the air, festival season is upon us! Maybe you're spending time with friends or enjoying some travel time. Festivals are definitely not a "one size fits all". They range in genre and interests, but with your Betty VonChic packing list, you will be prepared for any festival in your future!
1. WARDROBE!!!
This may be the ABSOLUTE BEST PART! Depending on what type of festival you will be attending, Betty VonChic has you covered! From our two-piece tropical sets to our cute tops for any occasion! We also have some super cute tights!
Shorts, Mini-Skirts, Dresses and/or rompers!
We want to stay cute and stylish, but we also want to stay COMFY! Check out our NEW Disco Romper that is now in production on our website at www.bettyvonchic.com!
2. Make a statement with a HANDS-FREE fashionable bag!
There is nothing more frustrating than being somewhere and not being able to fully enjoy yourself because you are worried about your purse! Check out our cross body bags and wallets to free up your hands for drinks and dancing! Don't forget to check the venue's policies on bags and purses, as some will have a size capacity or clear bag requirement.
3. Makeup Essentials
Lipstick, powder, gum, fragrances, and wipes! We all know with the crowds how hot and sweaty festivals can be! Did you know…they even make deodorant wipes now?!
4. Reusable Water Bottle
It's most important to have fun, but also stay hydrated!
5. Weather-Proofing Items
Weather is never our friend, so to be prepared take a cute rain jacket or umbrella! Nothing will be stopping you from having the time of your life now!
6. Tent and Camping Equipment
If you're going to a festival where you're going to be camping, you'll need somewhere to sleep. Most festival-goers use tents, which are ideal, although hammocks could work too, depending on the venue. 
7. First Aid Kit
Anything can happen at a festival, and a first aid kit filled with bandaids, Advil and Neosporin will definitely come in handy at some point. I've had blisters, splinters, scrapes, cuts and burns happen at festivals, and have had to use my first aid kit on myself, friends, and strangers more times than I can count.
8. Cooler
If festival rules allow it, you will not regret bringing a big cooler with you, especially for multi-day festivals. It'll keep all your food and beverages nice and cold, and you can pack it with water bottles, easy snacks, and maybe a bottle of aloe vera in case you get a sunburn. This one comes on wheels so you can easily roll it from the parking lot to your spot.
9. Sunscreen
The last thing you want at a festival is to be babysitting a sunburn! So just help yourself out and make sure you wear a good SPF sunscreen to protect yourself!
10. Device Charging
There are so many options on the market for charging your device! They offer blocks for your phone or even charging stations!
Tips: If you're going with a group, be sure to set a central meeting place. With all the crowds and chaos, it is easy to get split apart from your group.
There are usually A LOT of vendors at festivals selling all kinds of merchandise from hats and scarves to t-shirts! And, if you're like me, you are looking forward to all of the different food vendors! The food is always AH-MAZINGGG and there are so many options to choose from!
If you're into traveling and exploring, you should also check out some of the cool things to do and see in or around the city where the festival is located! You're already going there, so why not maximize the adventure!