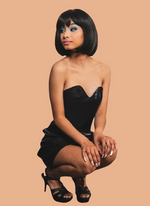 The Rachel Dress & Her Story
The Rachel Dress is a new arrival to Betty VonChic! It is Sassy, chic, fun, and flirty. The corset top has a light boning for shaping and is the PERFECT go-to dress for all of your summer occasions! It runs from a size 2-14, but runs a tad small, so you may want to size up. It comes in yellow shimmer, pink shimmer, silver stretch matte satin, red stretch matte satin, black pinstripe, and black shimmer. So, as you can tell...almost any color you could want, we have it! 


The Rachel Dress was inspired by someone special to our hearts.
Rachel Rigali was a highly creative artist who painted, loved thrifting, and sewing. She had an innate knack for buying cool clothes at thrift stores and reselling them through her vintage clothing business called Bitchcraft. When Rachel was 18 we went down to a Mexico beach town, this is where I first realized her talent for vintage fashion. There were lots of American tourists who were all dressed basically the same wearing shorts, tank tops and flip-flops. Rachel was wearing a very cool long skirt, with a vintage cotton blouse and military boots. We went into a local restaurant and two young girls who were working there came by our table and asked if they could take their picture with Rachel. From that day on I knew Rachel had the vision and the confidence to create looks that most of us could only imagine. She had a wonderful sense of humor and loved doing spontaneous, crazy things like being at a Bernie Sanders rally and throwing her shirt up. Rachel was kind to a fault and was always helping people who were at their worst. Rachel lost her courageous fight with Cancer on May 28th, 2023 at the age of 28 but she will forever live in our hearts.